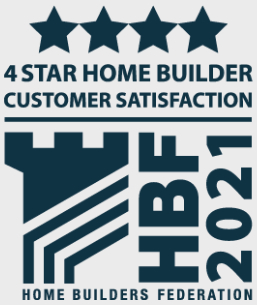 Burrington Estates New Homes continues to exceed expectations as it receives the highest rating of 5-stars in the recent independent homebuyers' customer satisfaction survey by the House Building Federation (HBF) Star Rating Scheme. The 5-star accreditation states over 90% of their customers would recommend Burrington Estates New Homes to a friend. This outstanding result reflects the continued investment in providing exceptional customer service, and aligns with their vision of creating beautiful places to live and work whilst building enduring communities.
The annual survey is one of the most comprehensive, large-scale surveys of its type carried out in the UK. The survey results show satisfaction levels amongst new home buyers across the UK have improved for a third consecutive year, up 2% on last year and 5% in the last three - a period over which housing supply has continued to increase significantly. Of those who responded, 91% said they would buy a new build home again.
The HBF Star Rating Scheme awards developers stars for customer satisfaction. The number of stars awarded is based on the homeowner feedback in an independent National New Homes Survey of customer satisfaction. The survey is designed to provide home buyers with information about home builders to help guide their purchasing decision and to encourage excellent levels of service to be delivered by home builders.
Colin Palmer, Managing Director of Burrington Estates New Homes comments on the new 5-star accreditation:
"We're passionate about providing our customers with a first-class service, from initial enquiry to long-lasting aftercare. We're committed to not only delivering excellent customer service but providing amazing spaces to live and work. This award recognises all the hard work and commitment our team put in every day ensuring the best possible customer journey. I'm extremely proud of everyone for helping us achieve our 5-star housebuilder status."
The newly accredited 5-star status complements the recent Housebuilder of the Year award received by Burrington Estates News Homes at the Insider South West Residential Property Awards 2020 earlier this year. The NHBC also continues to recognise Burrington Estates New Homes's excellence in delivering quality homes and outstanding customer service through its annual award scheme, with five awards achieved since 2017. The multi-award winning developer is fast cementing itself as one of the South West's leading housebuilders amongst its competitors.
Building on the success of 2019, Burrington Estates New Homes continues its rapid expansion of luxury new homes in Devon and Cornwall, with sites in Exeter, Plymouth, Yetminster, Tiverton, Truro, and Fowey.
The dedicated team of highly experienced property experts with an extensive track record of success, the team at Burrington Estates New Homes is committed to creating new developments that benefit from exceptional quality and specification throughout whilst also being sensitive and celebrating architectural heritage.
Discover Burrington Estates New Homes Developments here.